On the Road Again
It seems as though I have flown almost every September 11th in the last ten years. This year, I was not flying, but rather driving; I am currently on a 3,660-mile road trip, and today finds me in Jackson Hole, Wyoming, not quite at the halfway point. Roadtripping has become a kind of therapy for me. In my past, most road trips have been just "a way to get there" on the cheap. They have been about the destination, not the journey. That changed significantly for me a couple years ago, when I found myself alone, really alone, not knowing too much about my own likes and dislikes. Strange place to be as a 50+ year old. Nevertheless, I have tackled that truth and in the takedown, I found parts of me I never knew existed or had forgotten about.
I am a strong woman with many weaknesses.
Not sure how that came to be, but it is certainly true and…, not one to shy away from the truth, I find myself digging in and trying to expose how I got to where I am. It is difficult to pinpoint the exact time and place, can one ever? For I feel we are consistently moving to a place where exposition is how we survive with our integrity in tact.
Exhausted by Life
It is easy to get tired – it would be easy to just go with the flow and not make waves. As many can attest, that would be strongly against my nature. So, I expose myself to situations where I will learn, where I can grow, where change is not only imminent but necessary.
The first three days of my adventure found me in St. George, Utah with about 20 women from my family – our annual Thorn Women's Retreat (Estro-Fest) was another smashing success. Next year will mark 25 years of this particular gathering. I have not been able to attend every year, but when I have gone, I have been strengthened and empowered by the women I am lucky enough to call family.
The Other Destination
While there is a business destination involved in my travels, I have wrapped a dropped pin with self-discovery. 3600+ miles does not scare me, nor will it scar me. It will fulfill something in me that is needed. Time in my head – to clear the cobwebs woven by hurt and anger – as well as releasing the stress that work can sometimes bring – and I am one of those crazies that works on vacation. Certain emotions tend to be felt more deeply or have a stronger impact, I believe anger and hurt call into that category.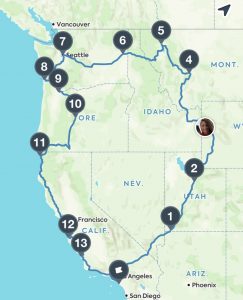 The Destination
My company, Dovetail Software is attending/exhibiting an annual event for Healthcare Human Resources in Seattle this weekend – The ASHHRA Conference. I love this event – it's one of my favorites and I have attended a number of times. I will walk the aisles, speak with other vendors that support Healthcare HR and learn as much as I can from the practitioners there for erudition. There will be plenty for my team to take in, as we want to benefit clients, as well as make sure we are presenting the full benefits of what Dovetail offers.
Many years ago, I worked for a healthcare-specific search firm as an executive recruiter – this is where I cut my teeth in recruiting, in human resources.  It is strange but going to this conference always feels like going home. And, with the many changes in recruiting and HR over the last fifteen years, it is always a strange homecoming – like when your parents get new furniture, though you've been gone from home for 20+ years.
Change is Good
Like so many others, I have felt the pain of change in life and career. Life goes on and thank God for that.  We are often faced with what ifs and could've beens – it is when we see clearly, when we know the choices that were initially painful to make, when we see them through the lenses of today, that we know the choices we made were the right ones.
And while not necessarily pain-free, they are right, correct, the best, the way it should be.  I am happy where I am now. Work is fulfilling and life / love continue to be a gamble. And who doesn't love a spin at the roulette table?
And so it goes.  Change is inevitable and usually for the better.
"Progress is impossible without change, and those who cannot change their minds cannot change anything." – George Bernard Shaw

Latest posts by Rayanne Krueger (see all)