Getting Fit: It's been an interesting life, thus far.
Fitness was my personal battle against asthma, which often incapacitated me as a child. I missed many trick-or-treating outings because of chronic bronchitis or uncontrollable coughing and wheezing. I remember one quiet Sunday when I was about 10 years old, sitting in a comfy chair alone at home – everyone else at church – body shaking because of the asthma meds I was on. I wondered then, how I would ever ride a bike again or play sports. Or even become an adult.
As medicines improved and my asthma became incrementally better, I maintained my physical fitness. I played softball, volleyball, water polo, swam competitively, and even did "shot put" quite successfully – as a scrawny, skinny teenager. As I moved through adulthood, I stuck with softball and volleyball, playing well into my third trimesters of each pregnancy.
But my knees slowly gave out and 6 surgeries including complete ACL repairs on both, using my hamstrings, were in order. Power walking and bike riding replaced volleyball and softball. I love the restored energy of consistent workouts, but it has been a battle my entire life to stay fit. I am sure I am not alone in feeling this way.
The Power of Wellness
For twenty years, I worked as a dental assistant, fifteen of those years working in a children's dental office. It was a little easier to maintain my fitness when I ran up and down hallways, lifting and chasing other people's kids, in addition to my own four. When I left the dental field and joined a recruiting firm, my physical activity during the work day halted almost completely, as I sat in front of a computer making cold calls for 7-8 hours every day. The last fifteen years in recruiting, HR, retention, and HR Technology have not helped maintain my fitness.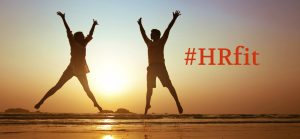 I have power walked, sought the refuge of yoga, hiked, and biked over the last several years in an effort to slow my heart rate and beat any and every affliction that might stop at my door. I have thought a great deal about fitness over the last year as "Wellness" became a trending topic for the human resources industry. Keeping an HR department and its processes fit is imperative to maintaining the wellness of a workforce – just as keeping a body fit is imperative to the wellness of a person, an individual.  Much of the content I will be producing and distributing on behalf of my company over the next several months will dwell on this topic.
I am excited to come to you with a crossover of this topic.
Let me explain. A few months back I started biking more consistently, investing in a quality bike rack for my car and a little bike trailer to attach to my bike – I know – silly, but I love taking my dog with me. I have an adventure coming up in November where my dog, Spikey, and I will be doing an extended road trip which includes about 4000+ car miles and over 300 biking miles – I (we) are training for this now.
Now, the crazy part…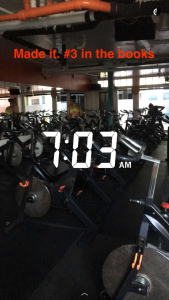 I just decided to jump off the deep end.  Last week, I took up spinning. Or what I like to call "suicidal stationary bike dancing" – Spinning is a catchier name, right?
I thought, as a long-time biker that this would be an easy endeavor for me. Nope. Not even close. I finished my third and final free spin class this morning at Rhythm Ride – my local studio. I have made the decision to invest – my body, time, and money. And I am going to take you on this ride with me, I will be writing about this journey, documenting every pain point and success, failure and injury.
I am in pain, I am exhausted, I am drained, and I love it. 
I am getting fit. For work. For life. For love. Some day.
Upcoming?

Rhythm Ripped. This combines arm weight training with spinning. Kill me now. 
Glossary (words I learn along the way!)
Free Wheeling: Having no tension on the wheel and doing a sprint – this can be very dangerous. No kidding. 

Latest posts by Rayanne Thorn (see all)
[ssba]