By Ashley Francis, Contributor and Owner, TURN Studio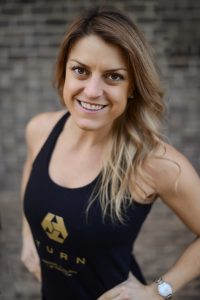 Your alarm goes off. Maybe two, maybe five times depending on the type of person you are in the morning. Regardless of the amount of times it takes, you get up. You get presentable enough to make the person you are selling to think you cared enough to be there. You make your pitch, shake your customers hand in hopes you closed the deal, now off you go to grab a coffee. Another call or two and yes, it's lunch time! You hurry and eat just to repeat the morning all over again in the afternoon. You are finally home, traffic was exhausting. Ah, the wine glass awaits you while the crock pot's perfect timing strikes again, and you sit down with your slippers on to forget about the oh-so-stressful day. You binge watch the addicting tv show that you and your friends are texting about. Your eyes start to fade so you crawl in bed, only to repeat the day's work all over again until Friday at five o'clock. Sounds borderline close to a typical day in the routine of a sales career, right?
We are habitual with looking the part, closing the deals, boasting our chests as we walk out of the meeting we crushed and let's be honest, we barely prepped for it. We are great at being a boss and everyone knowing our name…because we are simply just that good. I feel you! What I don't understand then, is why are we not habitual in an overall healthy lifestyle? Why are we more motivated by recognition and commission checks than by our own self health? The one thing we can control (by means of diet and exercise), yet most of us have no control.
Before I continue I think it is important you understand a bit about me. I am a successful sales representative who proved all the territories wrong and grew them to the top. I was genius at working smarter, not harder. Meaning, I worked less hours than the average American employee (which is 42 according to my google search) and made a significant amount more than the average American (google search again). I work out six days a week and I eat mostly healthy. I am a believer in spoiling myself with queso, wine, and tailgate food for sure, but in moderation! My point in sharing that with you is so I can gain a little credibility in this blog. You can be better than average, regardless of where you are today, and I hope we all want to be better than average.
I have worked for five different sales companies before finally giving in to my inner entrepreneurial spirit begging me to start my own company, which brings us to where I am today: Owner of TURN Indoor Cycling + Strength Studio. During my time with those five companies I worked with hundreds of different sales reps and thousands of customers, but one thing was consistent: the conversation around working out and eating healthy. Regardless of who the conversation was with, I always got asked: "How do you stay so fit? What do you eat? When do you work out? How do you have so much energy?" Inside I was thinking, "What do you mean, how? How do you not work out and eat healthy? How do you go more than a day, okay I will give you a few days, without some sort of physical activity?" Most of the time I would fight the urge to reply with that and instead, I would just say, "I make it a priority."
Let's circle back to the over-excused story above. We are all extremely busy, especially today. Over the years we as humans somehow have grown to multi-task better than ever before and the demands from companies have made us clock over sixty-hour work weeks. Whether the drive thru is all we have time for and even then, the four-car line is going to make us late, or the candy bar in the desk drawer screams our name and we have to eat it or our work just will not get done! I get it, I really do. But what I don't get is why we accept it. I challenge you to take the next bit of this article to inspire you (if you are living the "too busy" life I have described) and become better than average.
Instead of living for your company, living for your boss, and living for the paycheck, I encourage you to live for you. Prioritize yourself over everything else. The benefit: an overall healthier personal and professional life. I understand you have a family and bills to pay, they will love you even more and your bills will still get paid. If you do not have a gym or a fitness routine, google will guide you or ask a friend or colleague where they enjoy working out. Find a community gym that welcomes you and motivates you to show up each day. Find a workout routine that you cannot wait to put on your workout gear for every day, maybe one that motivates you to go buy new workout gear! I challenge you to not give up if you don't fall in love with prioritizing fitness right away. It ain't easy falling in love, but once you do, the sweet spot is worth it. With time, your meetings now go without yawns and the meetings are more invigorating…your energy has increased! You feel stronger, you look more fit…your priorities are in the right place. Your mirror selfies make you smile, not sigh…commitment looks good on you. Okay you get the picture. I know this is not easy for most people. According to the CDC, 21.7% of adults over the age of 18 meet physical activity guidelines for both aerobic and muscle-strengthening activity. Be better than average, prioritize you.
Living life as a sales representative we are constantly on the road and "wining and dining". Nothing cute or scientific about this part: eat clean, eat consistently healthy, and your body, mind, and spirit will change. Your sleeping habits improve, your skin looks better, and your mind becomes sharper. Yep, all great traits to possess to help reach your quota and earn that rewarding commission check. Eating clean is hard, no doubt about it. We live in a world surrounded by temptation. If you aren't currently eating healthy, the beginning of this era in your life will seem impossible. Just trust the process and stay committed to the meal plan just like you are committed to replying to your customers email, and over time eating healthy
becomes as easy as the email.
If you train yourself to prioritize your own self, the results are beyond worth it. Not only does the couch and whatever show you binge watch sound less important to you now, you crave the high of a good sweat or the smell of the city on your run. Instead of fast food, you find yourself meal prepping or asking the waiter to hold the butter. You prioritize your schedule around your healthy lifestyle. Now I get it, all this isn't just as easy as it is me writing about it. You have the drive and the desire to be better than average at work, so why not have the same drive and desire to be better than average in life? Your company, your boss, your coworkers, and even your family will all crave your energy and positive buzz surrounding you. Just watch.
###


A native of Atlanta, Ashley Francis coupled her love for fitness with an appetite for entrepreneurship to open the first boutique indoor cycling and strength studio in Sandy Springs. Her self-motivated drive to succeed in both sports and business have culminated in her latest venture, TURN Indoor Cycling + Strength

Following graduation from Clemson University, a burgeoning career in medical sales led Francis to San Diego where she spent years honing her business expertise and learning the value of customer relationships while promoting a healthy lifestyle. In 2017, drawing upon her business prowess and enthusiasm for wellness, she took a leap of faith and returned to Atlanta to build a place with everything she craved: intensity, inspiration, and a community of hard working hustlers getting an empowering workout. That place is TURN Studio.

Francis is a powerhouse of positivity and hopes to build positive change in the lives of her clients through inclusive motivation, engaging fitness classes and active charitable involvement within the Sandy Springs community. She is certified through Stages Cycling and an international presenter and trainer.

A respected leader in the boutique fitness industry, Francis is a living, breathing example of taking your passions seriously without taking yourself too seriously.

Latest posts by Ashley Francis (see all)