The Truth about the Homeless
People will sooner aid a sick dog lying on the sidewalk than to try
to find shelter for a sick person. It's too much to deal with.
–Michael Zaslow
The internet is an excellent tool used by millions to find information, share emails, keep in touch with friends, and share funny photos and memes. I am on the internet, it seems, hours upon hours a day. In fact, I am a serial Facebook, LinkedIn, blog-reading fool. Whenever I am sitting at a bar having conversations and discussions about something, it's off to Google to prove my point or get info on the subject. It's just too easy to gather information now, and it is so much faster. This being a political year, it seems that funny photos and sarcastic ones are popping up all over social networks, some funny – some disturbing.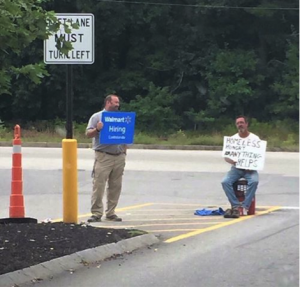 I saw the above picture on Facebook a few days ago and then I saw something similar in LA, live. It broke my heart. The photo was meant to be satirical, yet what I saw on that corner was a reality for a human being that I passed by in my Uber to the airport. He had a sign out with the usual verbiage but here is the story. There was no man standing or photoshopped in, this was life. I thought about the pic when I saw him and thought, why couldn't he find work at a Walmart or a McDonald's? When I got on the plane, that picture still sat in the back of my head as sat down, in 1st class no less, and I wondered what the Walmart guy would really say to this man instead of trying to go viral on the internet with what would be perceived as a funny photo.
Getting Work for People
Being in the actual practice of getting people work for over 19 years, I would like to set up a dose of a little reality for him. Here are some of my G-rated questions for the Walmart guy:
1) Will you hire him if he doesn't pass a background check or has committed a felony?
2) Will you provide him clothes to work in and when those get dirty will you help him get them washed or do you think that first paycheck will pay for an apartment, utilities, appliances, and laundry detergent?
3) Will you immediately pay for any healthcare including mental health care he might need? With medications?
4) Will you keep him as an employee if he has an exacerbation of PTSD, anxiety, schizophrenia, or anything else while at work?
5) Will you have someone watch his only earthly possessions while he is working, so no one steals them?
6) Will you provide childcare or transportation or a bed for a good night's sleep or food to sustain him while he works?
7) Will you even take an application from someone who does not have an address?
Are the answers to my questions are "yes?" If so, I admire your corporation, and I will be more than happy to help drive candidates to your organization. However, we both know that the answer to every one of these queries is "NO!"
Just Get a Freaking Job
The "just get a freaking job" argument is not so easy to quip when you look at the facts. Many of those who are homeless do work or want to work. Many can't. It is truly not a simple fix. Some homeless hold signs – mostly people don't talk to them, they turn away, or tell them to get a job. Judging them helps in no way, at all. I am fully aware there are bogus people out there pulling heart strings on sympathies who hold signs and don't have legitimate needs; I actually don't advocate for giving cash to those "flying signs" unless they are creative.
Cheeseburgers?
Years ago, while in San Francisco visiting friends we ran across a black man with a sign that read, "please donate to the United Negro Cheeseburger Fund" we laughed hard, and I said if I give you 5 dollars are you going to go the McDonalds behind you and get some .99 cent cheeseburgers? He smiled and said yes, yes I am. I gave him the 5 dollars, and he ran in to get the cheeseburgers, came out and went around the corner. We followed him to see if he was, indeed, going to eat them. He did not, he gave them away to a woman & two kids, and another man grabbed his sign and went back to his post. I looked at my compadres and without a word we crossed the street and gave him all the cash we could.
The Faces of the Homeless
My point is, "just get a damn job" is not simple thing look what stands in front of those who have fallen and cannot get up. Please take some time to understand some of the most devastating underlying issues these people have is the lack of caring we have for them. Human resources used to be a middle man between employees and owners while helping fill vacant seats. Now, they are mostly buried with compliance, benefits, and just making sure they don't get sued for not taking chances. They are more concerned about the bottom line than most CEOs.
These struggling people have feelings and worth, and they are not all junkies and alcoholics, many are just fighting to survive in a world that looks at them like trash. Some are veterans who fought in wars they did not start. Some are women who ran from abusive marriages, some are those who fell on hard times. Some are teenage throw aways who never even had a shot at life, and the spiraling effect of going down is like falling out of a plane without a working parachute. It's not the fall that kills you, it's the fact there was nothing and no one there willing to catch you.
Paying it Forward
I hope this is where we can start to fit in. We, as a society, need to start actively start getting deeper in the game, we need to be more than order takers and more about effecting change. Stop giving them a dollar to pay for a coffee but get them somewhere they can get help. We need to start championing people we may not have in the past. I am using the homeless as an analogy just as there are other groups that need help, training, and, just some love. Join me in paying it forward, will you? Remember, you are either part of the problem or part of the solution, where do you want to be in history?
#truestory #life
Derek Zeller draws from over 18 years in the recruiting industry. The last 13 years, he has been involved with federal government recruiting, specializing within the cleared Intel space under OFCCP compliance.

He has experience with both third party agency and in-house recruiting for multiple disciplines and technologies. Using out-of-the-box tactics and strategies to identify and engage talent, he has had
significant experience in building referral and social media programs, the implementation of Applicant Tracking Systems, technology evaluation, and the development of sourcing, employment branding, military and college recruiting strategies.

You can read his thoughts on RecruitingDaily.com or Recruitingblogs.com or his own site Derdiver.com.Derek currently lives in the DC area.

Follow Derek on Twitter @Derdiver or connect with him on LinkedIn.
Latest posts by Derek Zeller (see all)