Stress Relief: The Danger of Over-Consumption
"That's the problem with drinking, I thought, as I poured myself a drink. If something bad happens you drink in an attempt to forget; if something good happens you drink in order to celebrate; and if nothing happens you drink to make something happen." ― Charles Bukowski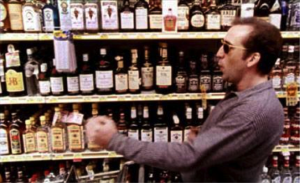 Many of us in the recruiting business find ourselves sitting at a desk all day with our only exercise being typing on a keypad or a phone pad. Our cardio is our mouths screening and closing job candidates while selling to managers and trying to smile through unrealistic requirements put upon us.
This, unlike most of the things in our irrational choice to become a recruiter, is something that we actually can control. Some do, most do not. We merely slip into a comfort zone of drinking to relieve the stress. It's like our version of exercise, instead of running to stave off stress, we drink alcohol. I have been to, and have spoken at, many conferences and have seen firsthand how the one constant communication tool is the copious amounts of alcohol that is consumed after the conference and exposition. I am not one to cast aspersions, as I have in the past had my fair share of binges and late-night revelries, but we need to make sure that this the exception to the rule and not the common thought out there. I was once asked in an interview how I dealt with stress. My answer was that I drank heavily.
Oddly I got the job.
I have to admit I was being interviewed by fellow recruiters so looking back, it makes sense, I guess. Also, I was, and am, snarky as hell – so at the very least, I thought it was funny.
This #truestory is about the person who took a chance on me those many years ago who got me into recruiting and the downward spiral that his life became as a warning of the dangers of alcohol abuse. Now, I am not saying that every recruiter is an alcoholic per sé, but we do seem to want to grab that glass of wine or whiskey and drink our troubles away. Hell, even now I am writing this at a bar waiting for the traffic to die down on the beltway, in other words, I'll be here a while, but I am just going to sip on that beer. I like using relatively generic names when I speak or write to protect the identity of the person, so we are going to call my first mentor, Mike.
Have You Met My Friend, Mike?
"I like to see the glass as half full, hopefully of Jack Daniels." 
― Darynda Jones
Mike was a great guy, who became a friend. He showed me the ropes of how to find, select, and close candidates. He was a master at it. He was a few years older than I, but he had grown up in the business since getting out of college with a literature degree. Since he could not find any other role for himself, he fell into recruiting, much like most, if not all of us, have. He was the silver-tongued devil who you just had to admire. When he spoke, you wanted to listen because he was eloquent and chose his words with precision. It was like watching a surgeon operate; he knew just how to cut through the bullshit and get to the real story. He was a good-looking guy, which complemented his charisma, and he could put on the charm at a bar, for a while.
Mike liked to drink, and when I say drink – I mean he REALLY liked to drink. He was a bourbon man and knew a great deal about the history, distillery process, and the nuances between manufacturers. I believe if you drank the way he did, it was not out of the question that his expertise would allow him to be a bourbon sommelier. I am not sure if that even exists but hey this is my story, and he can be an expert if I want him to be.
The thing about Mike is, he wasn't a mean drunk, or loud, or even stupid. He was, shall we say, a dejected drunk. He would stare off into the distance, sometimes while telling a story he would lose his eloquence and sometimes, he would just stop talking altogether; in the middle of a statement. Other times he would cry, not bawl or wail, but sort of as a release of emotion that had been bottled in for too long and was being let out painfully slow.
I was still in the part of my life that hitting the bars after work was what you did. Happy hour was indeed happy, and you could get over priced drinks for a much lower price and when you are only making $15 an hour, that means one or two more libations. Mike knew this, and since he almost always picked up the check, and he was making a hell of a lot more than $15 an hour, he was happy to pay for a drinking buddy that would look out for him. I was happy to oblige as the drinks were plentiful, the stories flowed with the bourbon, and since Mike did not like to drive, I always wanted to make sure he got home safely by putting him in a cab or drop him off myself.
I had seen plenty of drunks, in my past, having been a bartender in my former life; I had learned how to control the situation and talk them off the ledge. After a few months, I came to realize that Mike was, in fact, more than a drunk, he was a functioning alcoholic who was spiraling out of control.
He started keeping a bottle in his desk and since the owner went out for lunch, every day and Mike's desk had high cube walls he was able to take a shot or two during lunch time. Then, it was three or four, then, well, you get the point. It got bad, so bad that he was slurring his words by 4 pm and was even losing cognitive functionality at times. The owner of the company was clueless as to what was happening as Mike was making him cash and that was all he cared about, mostly. Caring about an employee who was crashing and burning was something that would make him a human being, which turned out – he was not. Yep, it was an agency, so would you be surprised? Probably not, if you have ever worked for one. Money makes the world go round.
The News…
"Ignorance is a lot like alcohol: the more you have of it, the less you are able to see its effect on you." ― Jay M. Bylsma
Mike had been out all week; I thought he was on vacation but, apparently from the messages I got, he was on a bender. I went out with him on Wednesday telling him the boss was not thrilled that he kept calling in sick, he shrugged his shoulders, slammed another glass of bourbon down his throat, and said, "So what!"
I got into work on a Friday morning after taking the night off from going out with him; I needed the break. When I got in that morning, the mood was somber in the office. The place was not exactly a bustling habitat of activity, but there was usually a buzz, people on the phone or tapping away on the computer, instead there was only the sound of silence. There was something in the way people looked at me when I came in. It was as though they wanted to tell me something but did not feel that it was their place to do so. I made it to my desk, attached the leg iron to my ankle, and began my work day. Out of the corner of my eye, I saw one of my coworkers staring at her screen with red swollen eyes, the kind brought on by tears. She was not typing or reading she was just, staring as if she was in some trance. The owner came out of his office and came to my desk. He looked me in the eye and with the emotion that would have been emitted by a stone spoke.
"Mike is dead, sorry I know you were friends, but we need to move on. Seats need to be filled."
He then walked away, without another word, right to his office and closed his door. The bullpen all looked at me at that moment for my reaction, my response, I had none. I sat there for a minute to take it in. I stood up and walked over to his desk, his cube, empty. I opened the drawer where he kept his bottle, empty. There were no pictures or even the notebooks he kept with the notes of candidates. The desk was cleared out; there was no evidence he even existed in our office. I was lost and I was not going to be found anytime soon. What happened? Was it an accident? What kills a 43-year-old man seemingly in good health?
Alchohol.
He had drunk himself to death; his liver had given out, and he had passed out not to awaken. Taken too soon and I did absolutely nothing to deter his behavior or get him help. I just took the free drinks & wings not ever asking what was behind those eyes that would stare into space. What were the demons that haunted him? Was the pressure to succeed, the daily push, was it too much for his constitution, to the point of no return? I know the answer, and it is simple; I'll never know because I never asked. Shame on me.
Two days later, I quit to go to another agency and start fresh. The emotion of sitting across from, and staring at, Mike's cube was too much to bare and frankly, plus working for a man who gave me grief because I wanted to attend his funeral wasn't worth the paycheck. The price was too high.
This is the END, My Friend
"Take a drink because you pity yourself, and then the drink pities you and has a drink, and then two good drinks get together, and that calls for drinks all around."  ― H. Beam Piper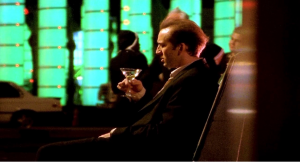 In 1995, the movie Leaving Las Vegas came out based on the book of the same name. I saw this film in 1997, the first year I started recruiting, and I think, in a way, Mike could have penned that story – as his own did, unhappily, become eerily similar to the author. Most people don't know that the book was an autobiography and the #truestory of John O'Brian. It is one hell of a movie and an even better book. Sadly, it reminded me of Mike, a good man who didn't know how to control his stress or his demons; he just spiraled down the rabbit hole while we all just witnessed and did nothing. There was a sadness in Mike that was daily exacerbated by the stress of the job we did and frustrations we faced, I suppose. Time to fill, the cost of hire, number of resumés sent, it is all bullshit, we are in a people business, we are not accountants.
I miss Mike. I miss my mentor. I miss my, friend.
He should be here with me smiling and laughing like he always did, lighting up a room.
I'm going to tell you what, after writing this I think I am going for a run, instead of running to the bar, the truest of #truestories.
#life
Derek Zeller draws from over 18 years in the recruiting industry. The last 13 years, he has been involved with federal government recruiting, specializing within the cleared Intel space under OFCCP compliance.

He has experience with both third party agency and in-house recruiting for multiple disciplines and technologies. Using out-of-the-box tactics and strategies to identify and engage talent, he has had
significant experience in building referral and social media programs, the implementation of Applicant Tracking Systems, technology evaluation, and the development of sourcing, employment branding, military and college recruiting strategies.

You can read his thoughts on RecruitingDaily.com or Recruitingblogs.com or his own site Derdiver.com.Derek currently lives in the DC area.

Follow Derek on Twitter @Derdiver or connect with him on LinkedIn.
Latest posts by Derek Zeller (see all)