The Donnafugata SurSur is a transitional wine, and I do not mean that it's the wine that's in transition.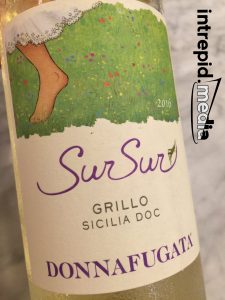 It's us who are transitioning, and this is the wine that is bridging us this week from one place to the next. Literally. We are moving houses, from one part of the city to another and, though we left most of our wine in the "old" house for now, this wine made the cut of the very few bottles that we hand-carried on our move.
Here's why I'm that hungry for this wine.
We live in Atlanta, and it's the month of July, and it is hot. As in, sweltering. In the midst of that heat is the physicality of moving heavy boxes and bulky furniture, and making 537 decisions about what needs to go where inside a new home that we don't yet know.
It is all, in a word, exhausting, even for someone who enjoys the karmic shake-up and editing process of a move.
So I knew that, at the end of the day, I would want something cool and refreshing and, especially in these conditions, white and crisp.
That's one reason that the Donnafugata SurSur made the cut.
The second reason has two parts: it's from southwestern Sicily (Sicilian wines are all the rage right now, thanks to a major surge of interest in volcanic wines from Mount Etna), and it's made from a native grape (Grillo) that is mostly unfamiliar to me.
Being Sicilian and unfamiliar raised the chances significantly that I would be interested in this wine even though I may have been too tired to be interested in much.
And then there were the bonus points. Its low alcohol (12.73% ABV), with just enough body without ill-timed weight or heft, and fruit and florals (which I love) on the nose. There is also a clever naming convention that, among my "tougher-minded" friends, I'd be embarrassed to admit that I find adorable. In addition to being the name of an ancient indigenous Sicilian grape, "Grillo" is also the name for the cricket, which brings good luck. "SurSur" means cricket in classical Arabic, which was once also spoken in Sicily.
That's a lot going on for one bottle of wine that made our very short-list transitional cut.
I placed a bet that I would – still – be hungry for this wine, even in a time of transition. And that bet paid off.
This wine reminds me why I love wine. Which reminds me why I love living my life. Which reminds me of all the thousands of things I'm grateful for, including moving and fresh starts and the luxury of relishing a glass or two of thirst-quenching wine at the end of an exhausting experience.
CLICK HERE TO LEARN MORE ABOUT THIS WINE!
###
Find Cathy Huyghe's book here:
###






Cathy Huyghe starts things. She is the co-founder of Enolytics, a big data company for the wine industry, and the founder of Harvard Alumni in Wine and Food. She also writes things. On the topic of wine, she writes for Forbes online and she's written the award-winning book, Hungry for Wine: Seeing the World through the Lens of a Wine Glass. On the topic of everything else, especially social justice, she's written for outlets such as the Atlanta Journal Constitution and MariaShriver.com. A long-time practitioner of yoga, she runs the initiative called Writing For Seva.

Latest posts by Cathy Huyghe (see all)