intrepid.media's COWORKING Media Package!
With our COWORKING package, we can spend the day in your joint capturing, on audio and/or video, the stories of your members. With this content, you can shine a light on what your residents are doing to change the world, and you can gift them this content to use on their very own digital channels, providing extra value to YOUR tenants!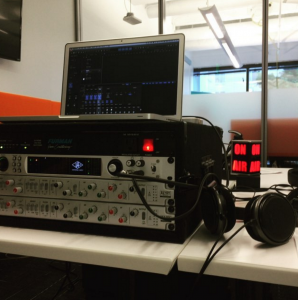 Goal: Record interviews of your coworking space members. Content can be used for the space to promote its members and provide a marketing service, and content can ALSO be distributed to member for their own use and integration into their marketing and content flow.
Some basic production notes:
Recording hours 10AM – 4PM standard. But can be adjusted per client spec.
Audio and/or video.
Audio only: Interviews recorded in twenty-minute blocks (minimum). We could do up to 20 to 25 interviews over the day.
Talent to conduct interviews showcasing and interviews members of the coworking space.
Engineer included, to record the audio and/or run the video capture.
Content can be used by coworking space to talk about and showcase its members.
Members can also integrate the interviews into their marketing.
Fee includes post-production work.
Note: Post-production Plus is the client's desired editing is much more complex than simply cleaning up basic interview. In other words, if you want a This American Life type of production, that will incur additional costs.
Fee includes host preparation to prepare for all interviews.
Will require space that is at least 20×20 (if video).
If audio only, we need need a quiet room in which to record.
This can be hosted on our international business network, or we can create a white-labeled and branded show of your own. Will require an additional $250 for production of formal intro and outro with voiceover talent.
Plus expenses (air fare, lodging for crew, equipment shipping, and food per diem).
Professional photography optional. Might be a great service to your members/tenants to get some action shots of them taken by a professional. These photos can be integrated into their marketing flow, and used for social media avatars and online presence.
$2,500 – host day rate
$1,500 – engineer day rate
$1,500 – photographer
$850 – one day of video post-production
$6,350 – DAY RATE TOTAL (with photographer)
Plus travel (air fare, lodging, food per diem, equipment shipping)