Podcast: Play in new window | Download | Embed
Guest Ron Wiens returns to HR Latte for this final episode to share his expertise in Cultural Change
Series: Building Organizations that Leap Tall Buildings in a Single Bound, Part 4

HR Latte, episode 106



Ron Wiens, Speaker, Author, and Advisor on Cultural Change, introduces several concepts from his book, "Building Organizations that Leap Tall Buildings in Single Bound."
Ron joins Rayanne again to continue the conversation in Episode 4 of a four-part series to talk about how to get your employees, teams, or organizations to work together for the good of the whole with a focus on Corporate Intelligence.
"How people work together, how they interact, goes to the heart of what organizational culture is all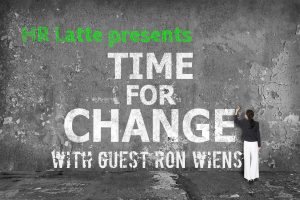 about. Culture, a culture that facilitates the ongoing creation of new knowledge, a culture that gets people building and creating together, has become today's competitive advantage." – Ron Wiens
Ron is happy to share everything he knows — you can visit his website to learn more and download his whitepapers, with no commitment or email required.
What you will learn in this final episode:
How Corporate Intelligence impacts Company Culture
Corporate Intelligence is about connecting people to their common future
If Culture is about the "bottom line" – do not expect to retain your most talented people
If you want to retain this talent, you have to establish cause – a common cause
The Joy of Leadership in taking your life's mission around the organization's mission
Organizational goals and strategies need to be selected wisely.
The Six-Week Rule: the Life of a Vision
Most Organizations are incandescent – with light going everywhere with no true alignment.
The Five Levels of Corporate Intelligence
Creating Common Cause for the Whole
Series: Build Organizations that Leap Tall Buildings in a Single Bound
Part 1: Introducing Ron Wiens, Cultural Change Expert
Part 2: Emotional Intelligence
Part 3: Relationship Intelligence
Part 4: Corporate Intelligence
The first 3 people to tweet @HRLatte with your favorite part of this series will receive a free copy of Ron's book, Building Organizations that Leap tall Buildings in a Single Bound.
You can contact Ron Wiens via email at ron@ronwiens.com
On Twitter
@Ron_Wiens
@Ray_anne
and @HRLatte
*Click here for past Episodes 1-66
HR

Latte

 is made possible by:
Dovetail Software delivers web-based solutions & help desk programs that enable organizations to reduce administrative & support costs, diagnose & resolve complex business problems, and increase efficiency, while improving support.
Rayanne loves hosting talk radio and continues to hone this craft in every way possible by creating and hosting several educational and promotional radio shows, hosting & moderating webinars and podcasts, as well as a featured host on intrepid.media.
For more information about how you can use online radio or podcasting to educate your target audience or customer, compliment your marketing efforts, and grow your brand recognition, feel free to message Rayanne on Twitter, LinkedIn, or via email at rayanne@intrepid.media.

Latest posts by Rayanne Krueger (see all)