Podcast: Play in new window | Download | Embed
Subscribe: iTunes | Android | RSS
Joined on the show today by Retired NBA Star (Boston Celtics and Miami Heat) and now businessman and entrepreneur, Mark Blount. You can learn more about what Mark is up to here.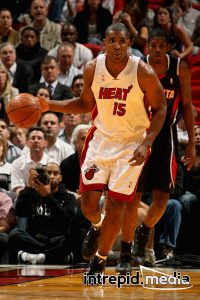 1. What is a triple-double, and why is it so rare in the NBA?

2. Blount's Business Triple Double concept involves succeeding in three main categories: Starting a Business (points), Growing a Business (rebounds), and Exiting a Business with profits (blocks).

3. Secrets for Short-Term Success: 5 Ways to Score Fast 'Points' In Business.

4. 7 Ways to Effectively 'Block' The Competition One Department at a Time.

5. Maintaining Marketplace 'Possession' Through 'Rebounds.'

6. Importance of giving back to the community.

7. Mark discusses the transition from a professional athlete to an entrepreneur.

8. Mark also talks about the apparent advantages that come from being a well known NBA star. Or are they?
About Mark Blount:
Mark Blount's long and successful career with the NBA is the story of a man with the determination to succeed where others might have picked up their ball and walked off the court. Mark played a total of six years with the Boston Celtics from 2000 to 2002 and again from 2003-2006, a season with the Denver Nuggets and the Minneapolis Timberwolves, and two seasons with the Miami Heat. After retiring from the NBA in 2010, Mark took the skills he learned on the court and brought them to the business world, beginning with the specialty food franchise and real estate industries, where he has curated tremendous entrepreneurial success.

Always ready to give back to the community, Mark brought his team building skills and compassion to several projects in South Florida. In 2012, Mark started an annual Thanksgiving Turkey Giveaway, donating and distributing turkeys to low income families through church organizations in Palm Beach Gardens. Mark sponsors Project Full Press, a camp committed to the development, growth and health of today's youth.. Seven Wellness is an organization Mark created to bring fitness and nutrition awareness to underprivileged kids, bringing in professional trainers to educate the children on exercise and specific movements.

###